SOG Knives Collectors' Review/Take:

The SOG Desert Dagger is the 1st 6" dagger rolled out by SOG, and is one of the older SOG knives too. It has a slight resemblance to the
SOG Government
- bearing the same handle and butt that can be used for field hammering. It is a rather attractive knife, with its sleek blade and a nice single "blood groove" running down the middle. There was a limited run

leather-handled version

of the Desert Dagger produced too.

The SOG Desert Dagger was famously used in the movie 'Kill Bill: Vol 1' as used by
Uma Thurman during the knife fight with Vernita Green, and also in the movie 'Snakes On a Plane', where Samuel L. Jackson takes it from a passenger's luggage to force open the cockpit door. Some have lamented that it was ridiculous for SOG to discontinue this knife right after being given free publicity by the 'Kill Bill' movie. Nonetheless, this discontinued dagger continues to fetch high prices on the web.


Copyright © Notice: If you plan to use our information (eg. selling your knife on Ebay), please cite our website by saying "Information taken from: http://www.sogknivescollectors.com" or mention our website.

Specifications:
Blade Length: 6.5 in. x .180 in.
Overall length: 12.0 in.
Blade Steel: AUS-6 Stainless Steel (earlier versions have 440A steel)
Blade hardness: Rc. 57-58
Blade Finish: Satin-polished
Weight: 9.0 oz.
Edge: Double-edged with serrations
Carry System: Kydex sheath (earlier versions have condura or nylon sheaths)
Handle Material: Kraton
Knife Type: Fixed Blade
Country of origin: Japan
Part #: S25


Rarity Details:
Last Known MSRP: $<.>
Production dates: 1991 - 2004
Production numbers: ?
Limited run?: No.
Other things of interest:

First few knives were serialized.
Rarity index: 8/10 (10 being the most rare)
Rarity index scale (1 to 10, 10 being the most rare):
1 - Very common; easily available on ebay, google product search and almost every knife selling website. Spammed with at least 10+ listings on ebay.
3 - Has been around for at least 2 years and are selling reasonably well, with retailers favouring other newer models over this knife.
5 - Knives that are on the borderline of being discontinued or have been discontinued for less than 6 months
6 - Products from 6 onwards are either discontinued or limited edition.
7 - Discontinued knives that pop up once every few months on the "For Sale" part of forums or on ebay. Still can be found at a few online shops though.
8 - Knives that need lots of researching to find. Not available anymore in online knife shops and pop up (if you're lucky) >4 months for one at a time.
9 - Knives holding this rarity are the shadowy kind. You can't find any information on them at all (not even from online knife shops that have not taken down that
knife's
product page). If you see one for sale grab at all cost.
10 - The rarest of all knives. If you hadn't been here you wouldn't even have known that it existed. Should you have one of these you better lock it up in a triple-com
bination
safe and treat it like a family heirloom...

Product Description:
The SOG Desert Dagger was initiated from requests from military personnel. It was designed to provide an expanded capability over conventional double-edged knives. This diversified knife combines 3 different edge types that enhance cutting power and is matched to a solid steel pommel for "on the spot" hammering in the field. In addition, the Desert Dagger "stands proud" with a custom feature rarely found on knives under $250...soldered crossguard construction! The Desert Dagger enlists the SOG famous aggressive Kraton grips for the ultimate command and control in the field. A finely tailored tactical nylon sheath completes an package that we feel is worthy of carrying on any front in the world. We know you will agree!
Pictures: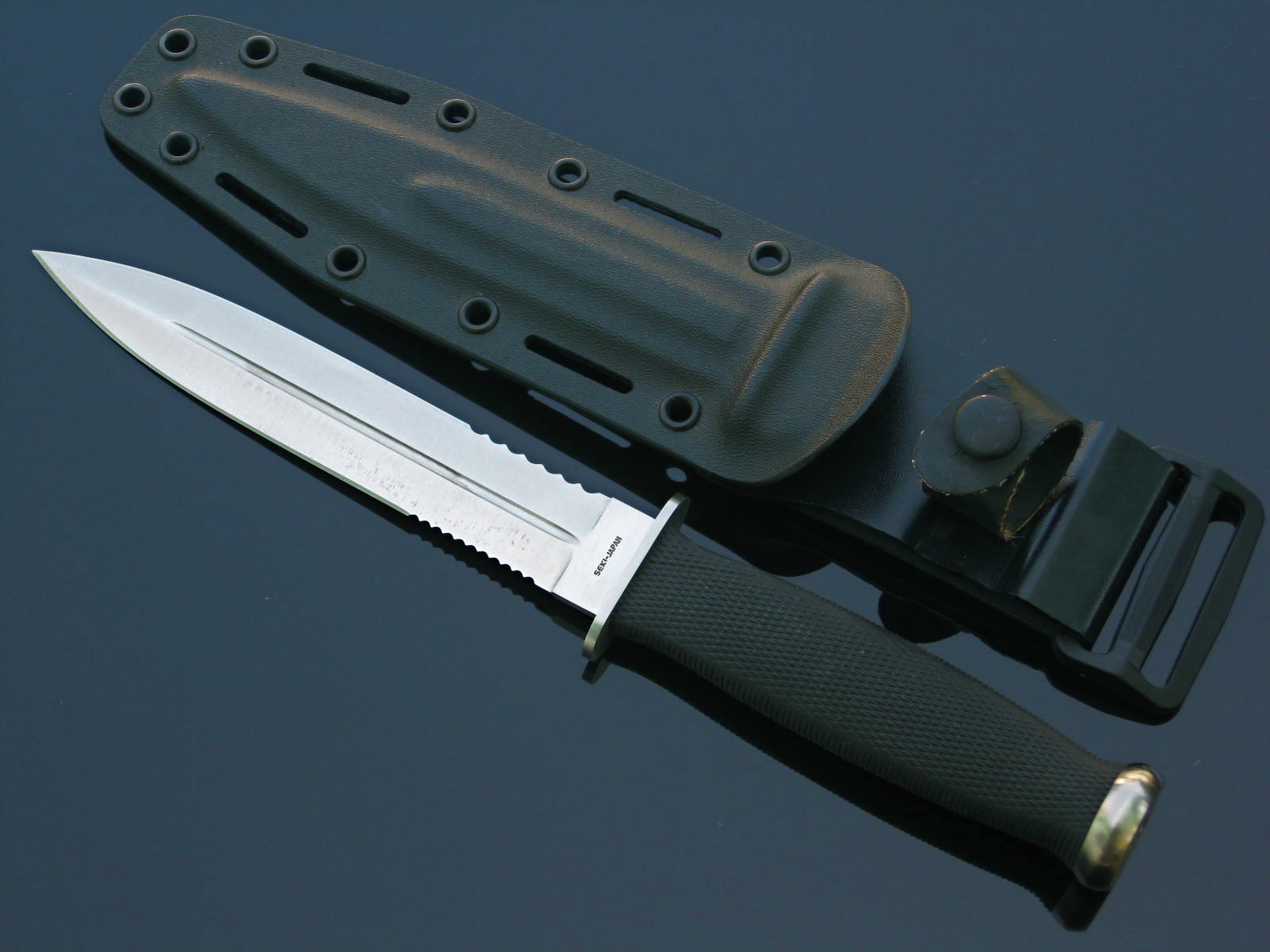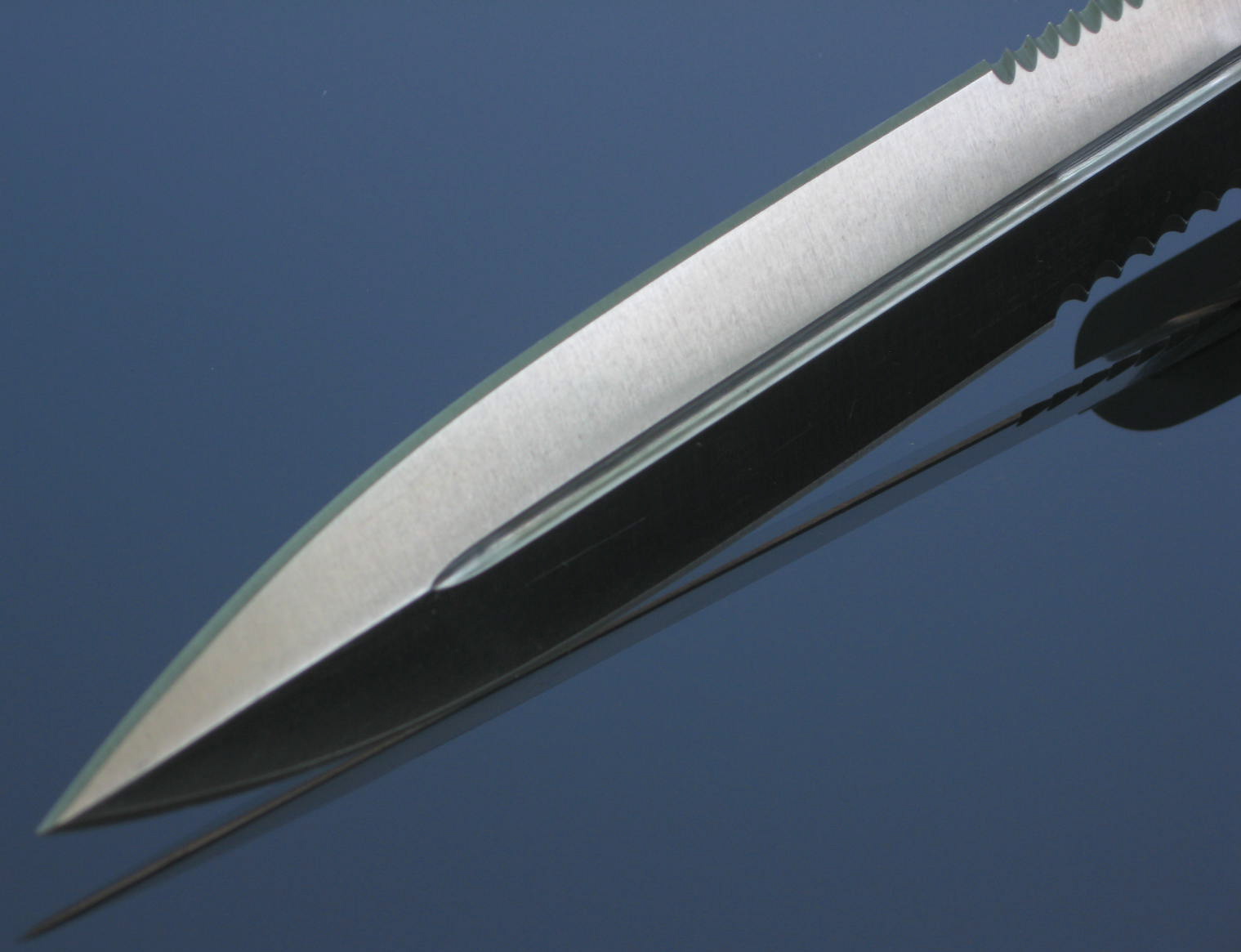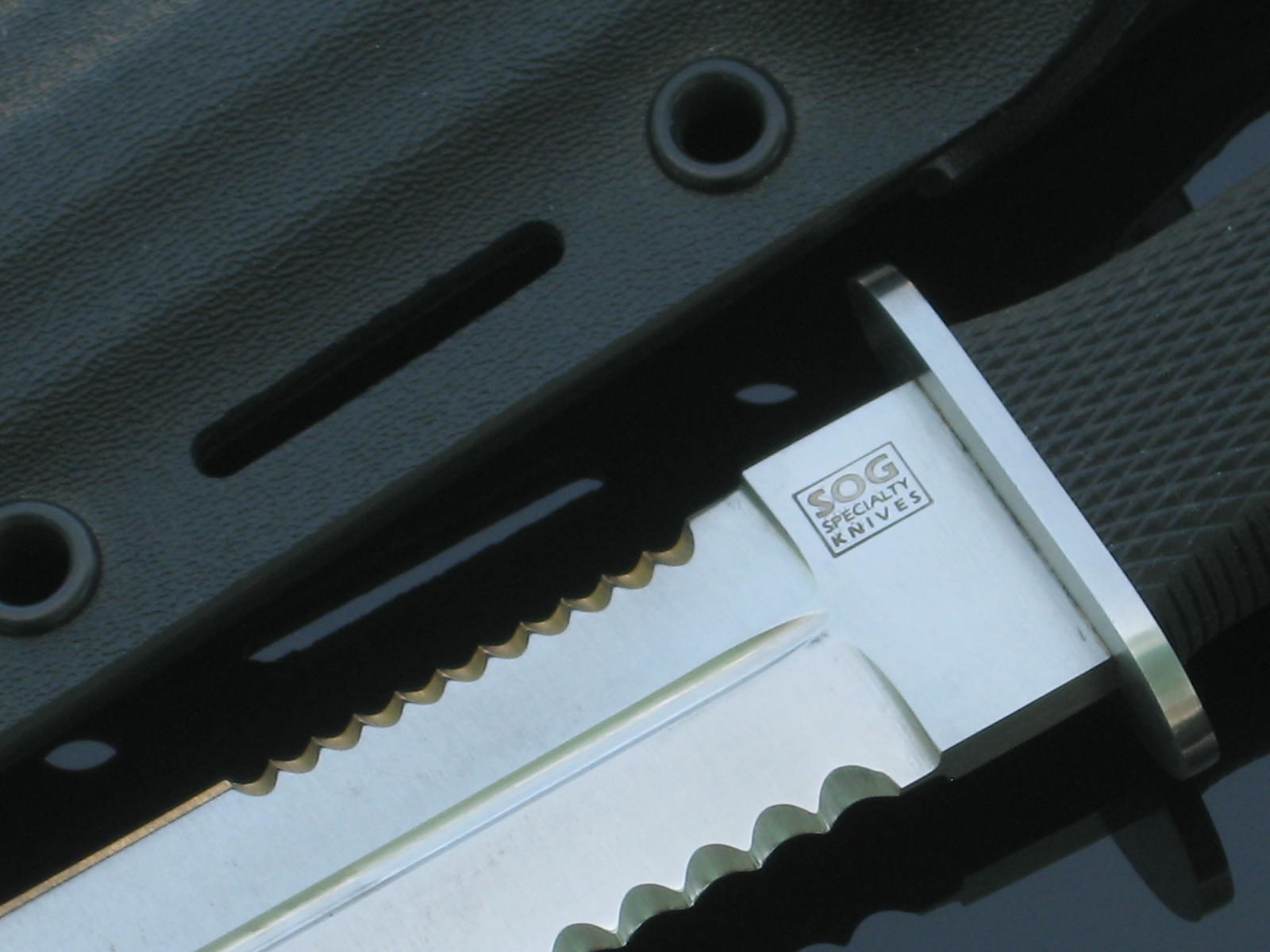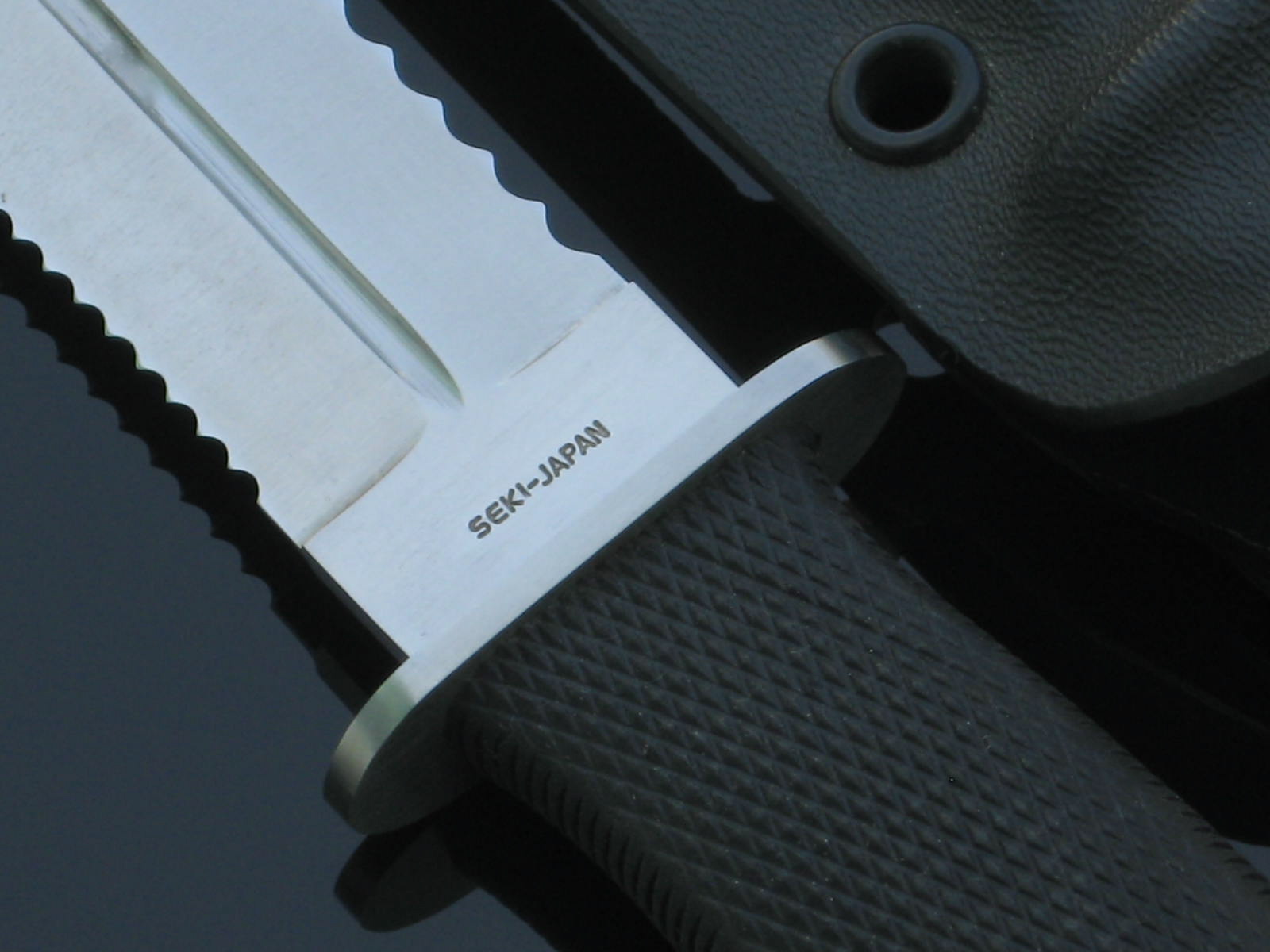 Desert Dagger kydex sheath Spear-point blade Square SOG logo Seki-Japan made!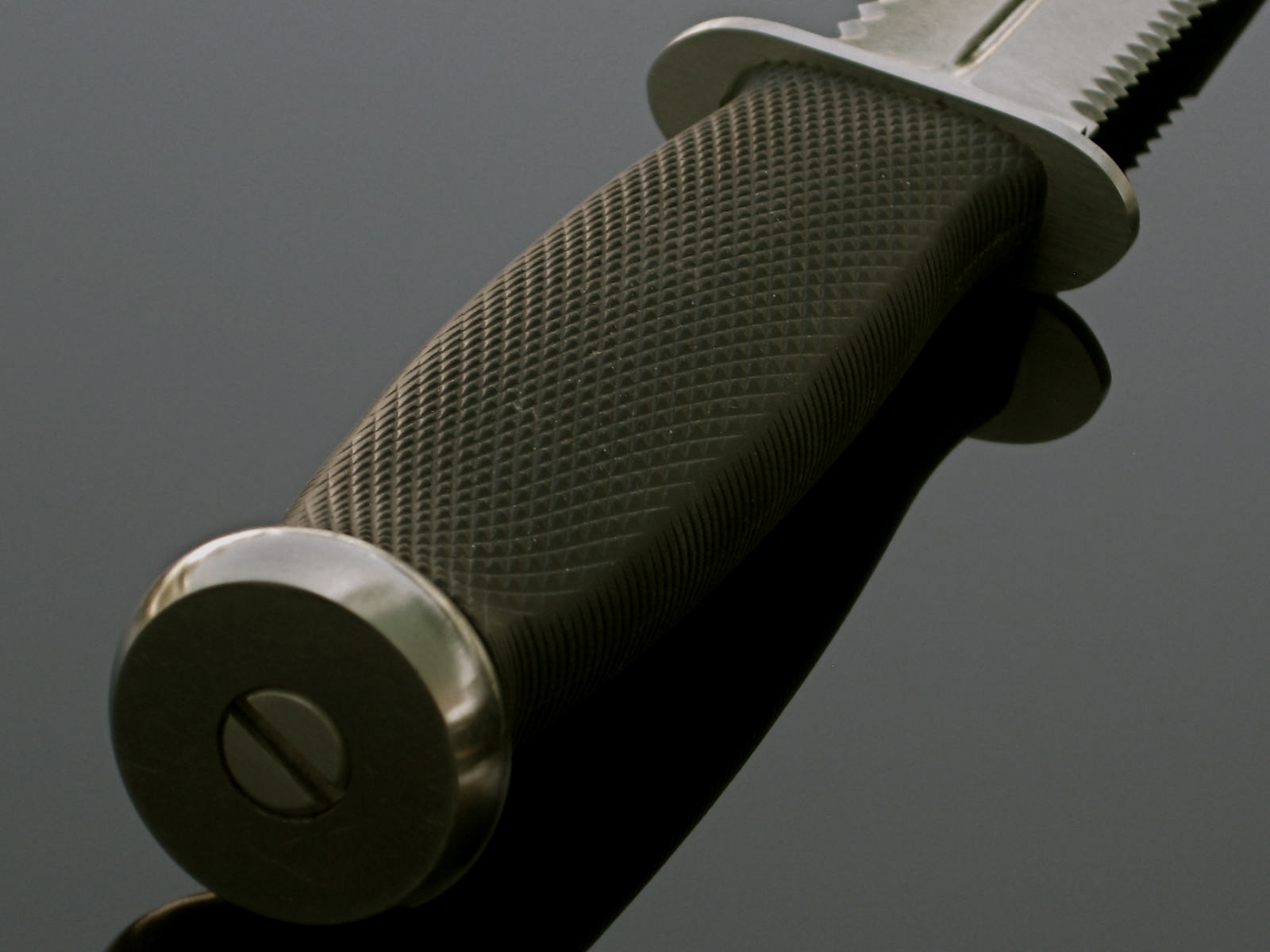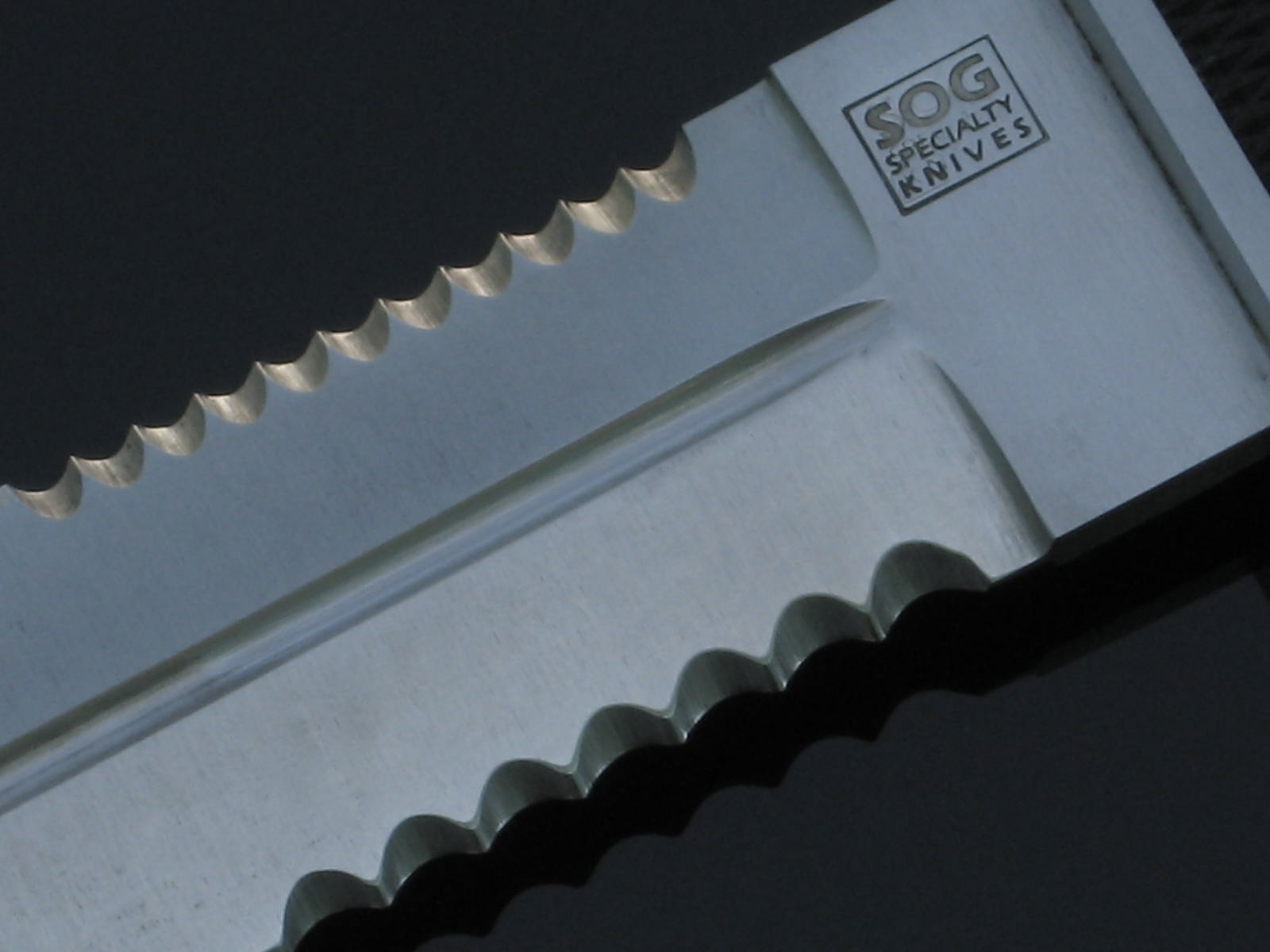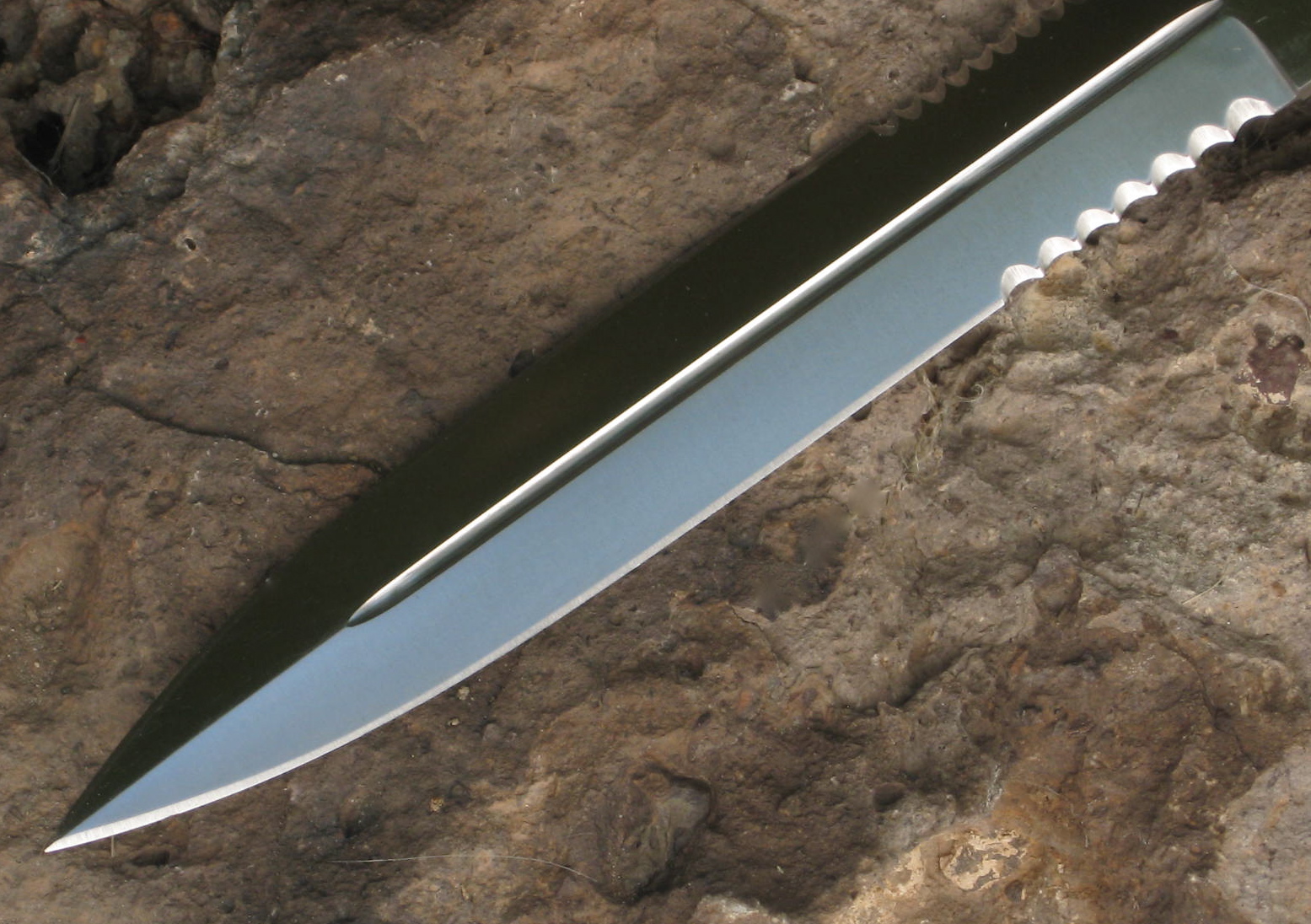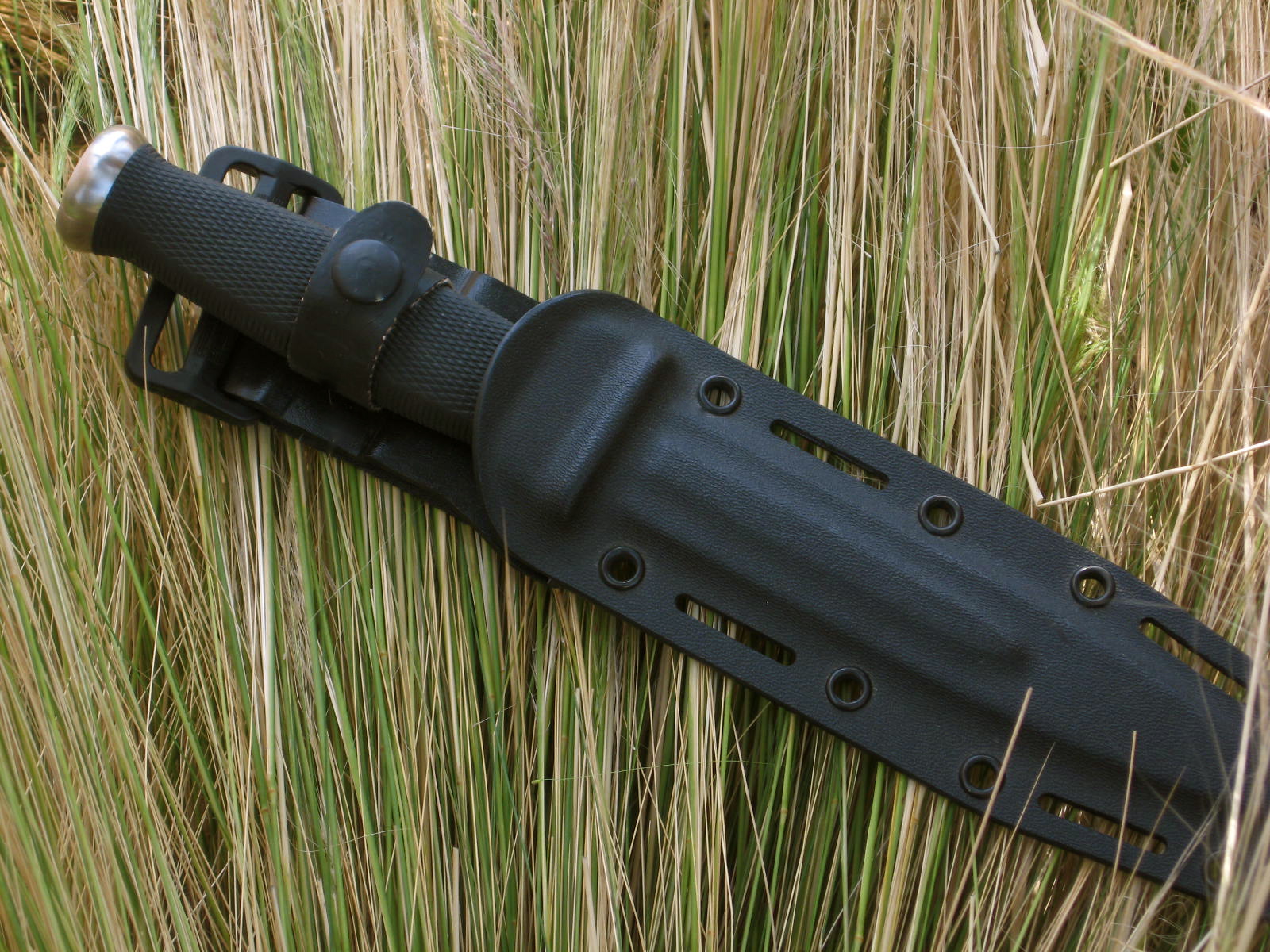 Field hammer pommel Sharp serrated teeth Blood groove in middle Wallpaper shot