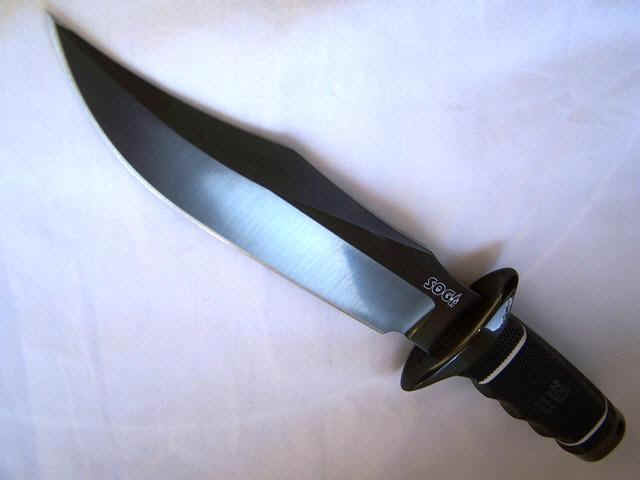 SOG Knives Collectors' Review:
The SOG Tech Bowie is one knife that builds up on the bowie-stlye design blades that SOG had rolled out since its beginning. Almost identical to the other bowies in terms of shape and blade geometry, the only difference is that the Tech Bowie is made in Taiwan and had a TiNi coating. Most people would recommend the Satin finished version for camping use but the black TiNi coated version holds its finish pretty well too.

Compared to the other earlier bowie knives, the Tech Bowie handle is definitely smaller but provides more grip. It has an rather rough checkered pattern of rubber and is not as squishy and thick (good in hand) as the older bowies. Some have commented that the 'Monogram' version of the Tech Bowie is "fugly" - and though it is a limited edition model few have been known to have bought one.

Specifications:
Blade Length: 6.4 in. x .240 in.
Blade steel: AUS-8
Blade hardness: Rc. 57-58
Blade finish: Satin finished, Black Hardcased TiNi, Monogram
(Dual Coloured TiNi)

Weight: 11.2 oz.
Edge: Plain
Carry System: Kydex sheath
Handle Material: Black Kraton handle
Knife Type: Fixed Blade
Country of Origin: Taiwan
Part #: S10P

(Satin)

, S10B

(Black TiNi)

, S10G
(Monogram)
Rarity Details:
Last Known MSRP: $175 (satin), $200 (Black TiNi), $260 (Monogram)
Estimate price now (2009): $115
Production dates:

2007 - present
Production numbers:

Still running...
Limited run?: No, except for Monogram version.
Other things of interest:

Monogram Tech Bowie is a limited run of 300 pieces.
Rarity index: 1/10 (10 being the most rare)
Rarity index scale (1 to 10, 10 being the most rare):
1 - Very common; easily available on ebay, google product search and almost every knife selling website. Spammed with at least 10+ listings on ebay.
3 - Has been around for at least 2 years and are selling reasonably well, with retailers favouring other newer models over this knife.
5 - Knives that are on the borderline of being discontinued or have been discontinued for less than 6 months.
6 - Products from 6 onwards are either discontinued or limited edition.
7 - Discontinued knives that pop up once every few months on the "For Sale" part of forums or on ebay. Still can be found at a few online shops though.
8 - Knives that need lots of researching to find. Not available anymore in online knife shops and pop up (if you're lucky) >4 months for one at a time.
9 - Knives holding this rarity are the shadowy kind. You can't find any information on them at all (not even from online knife shops that have not taken down that
knife's product page). If you see one for sale grab at all cost.
10 - The rarest of all knives. If you hadn't been here you wouldn't even have known that it existed. Should you have one of these you better lock it up in a triple-com
bination safe and treat it like a family heirloom..

Links to forums on this knife:
Product Description:
Based on the classic SOG Bowie that founded our company, but morphed into a top-notch work knife with the use of technology, modern materials, and a little class thrown in for good measure.

For starters all the metal parts are satin finished stainless steel, polished to a mirror shine/and coated in SOG's proprietary Hardcased™ TiAlN deep black coating.... It looks incredible! Offset against this, the tactile Kraton rubber handle nods to tradition with the use of interspaced white washers. This has never been accomplished before and provides an unmistakable SOG look. The thick (.240") AUS 8 blade is topped off with a faceted tip that is a SOG signature and completes the total package.

Also available in a Hardcased Black TiNi finish.

Monogram: The SOG Tech Bowie Monogram edition, features a deeply acid etched SOG pattern that brings a new fashion sensibility to cutlery. With dual colored TiNi coating and a unique pattern each piece becomes original art.

SOG Tech Bowie Pictures: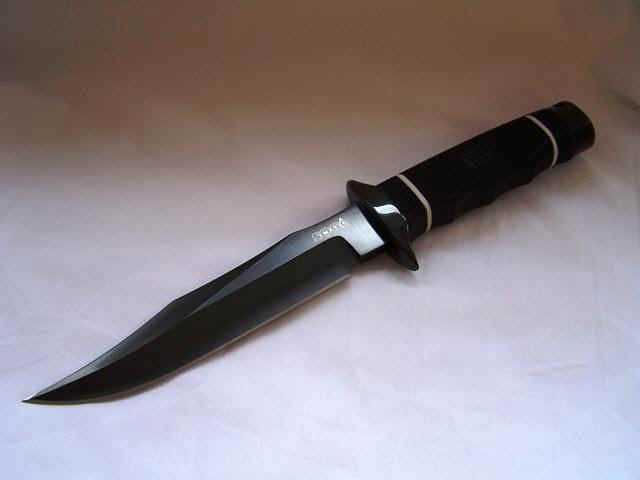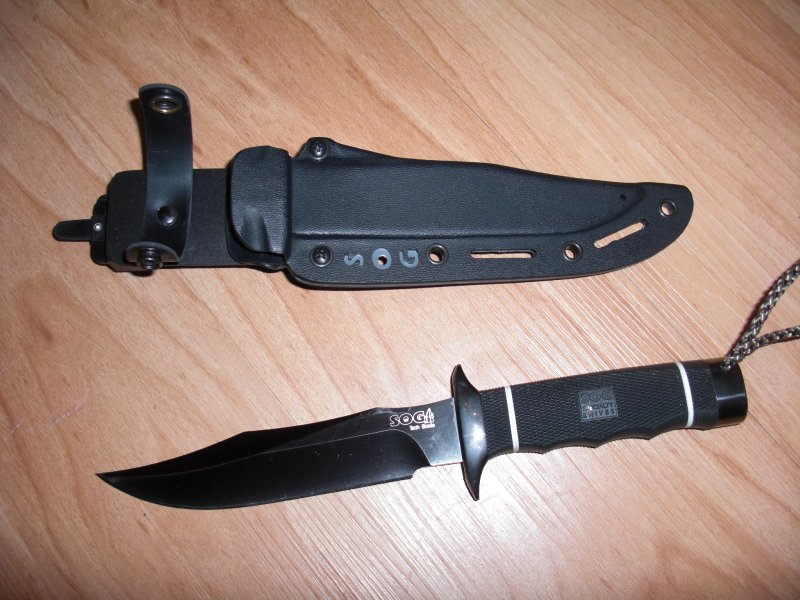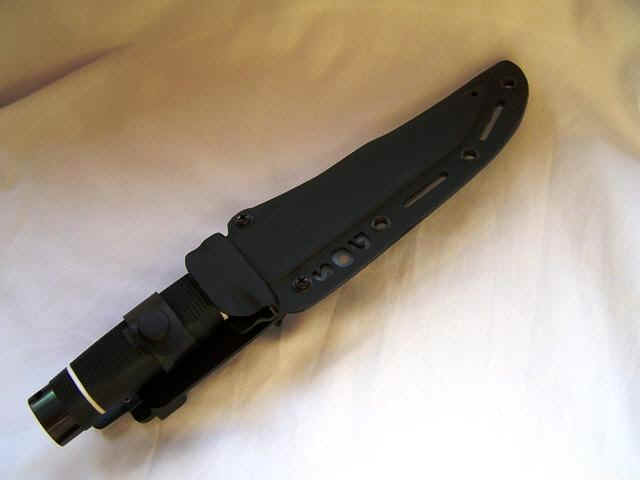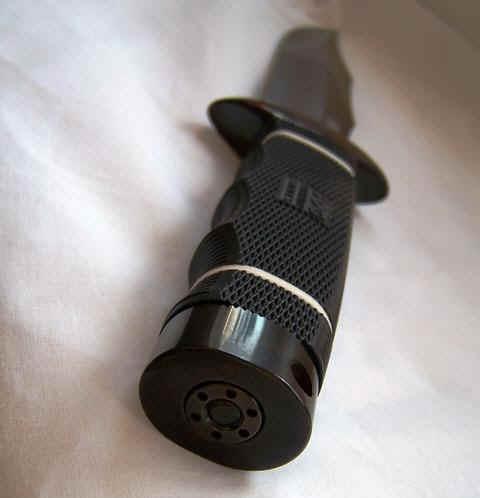 Full length view Tech Bowie w/ kydex sheath Tech Bowie in sheath Butt of knife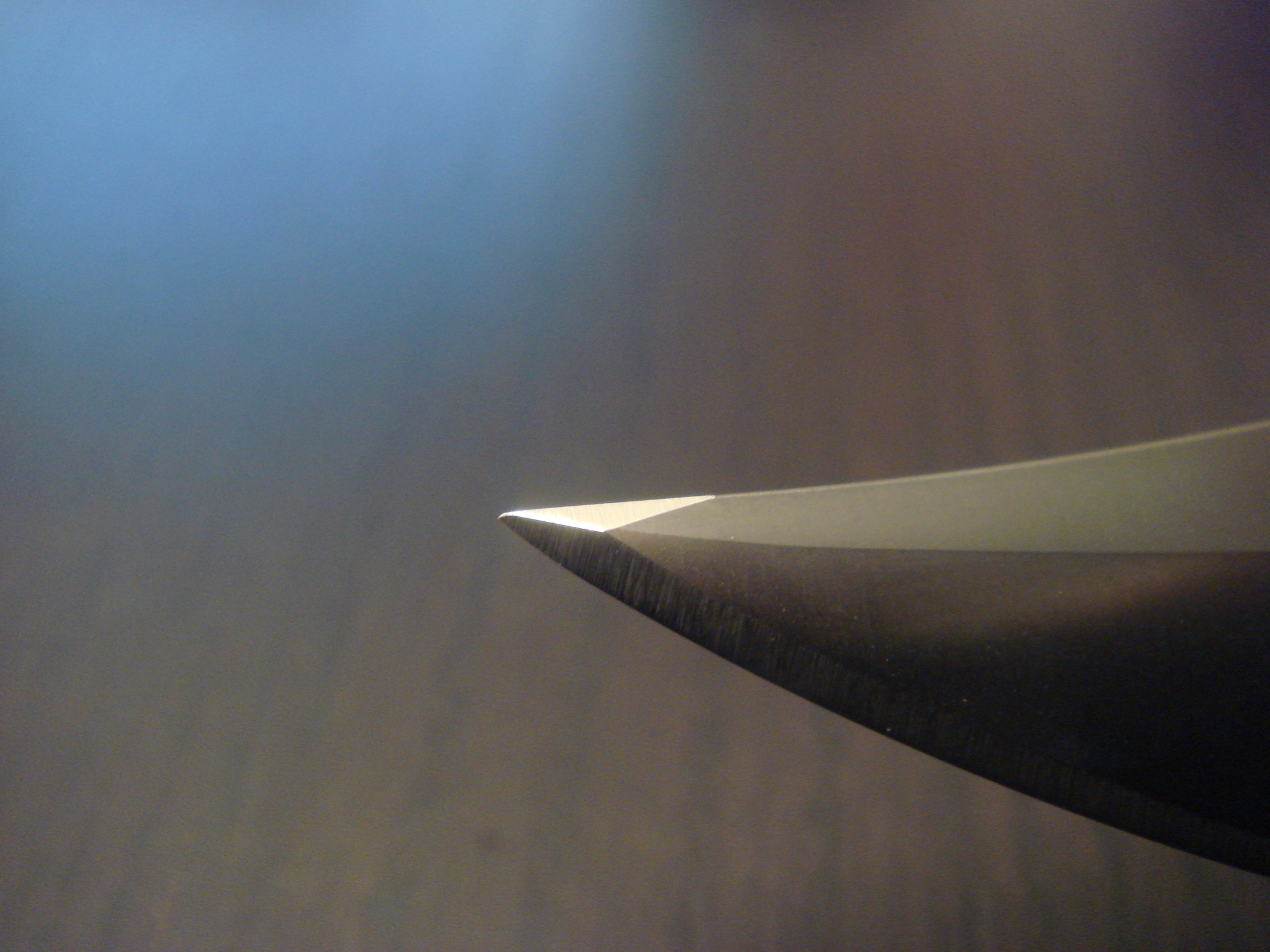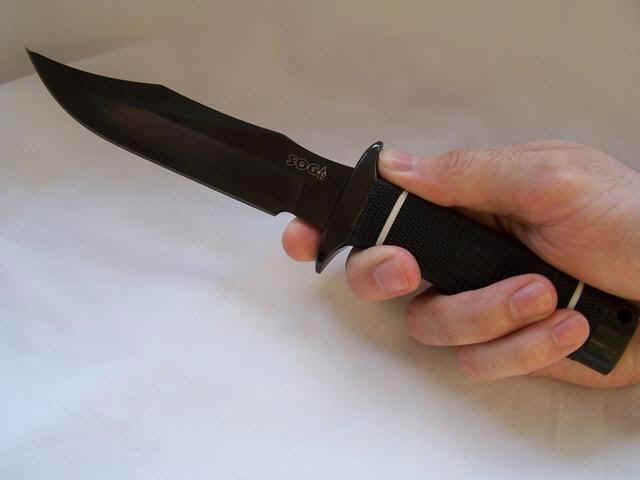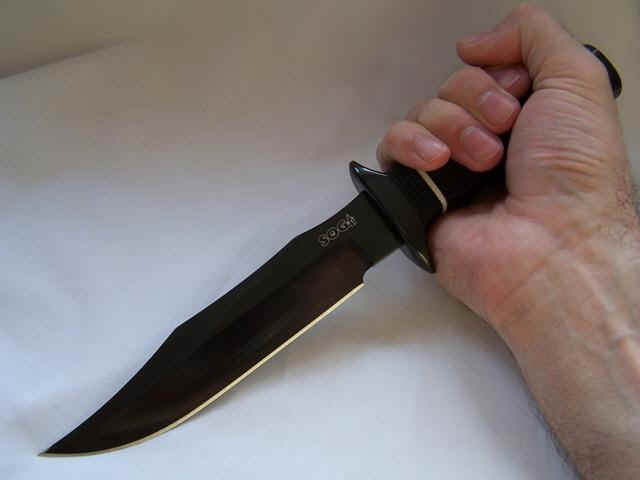 Kraton handle w/ white washers Classic 'Faceted tip' Sabre grip Hammer grip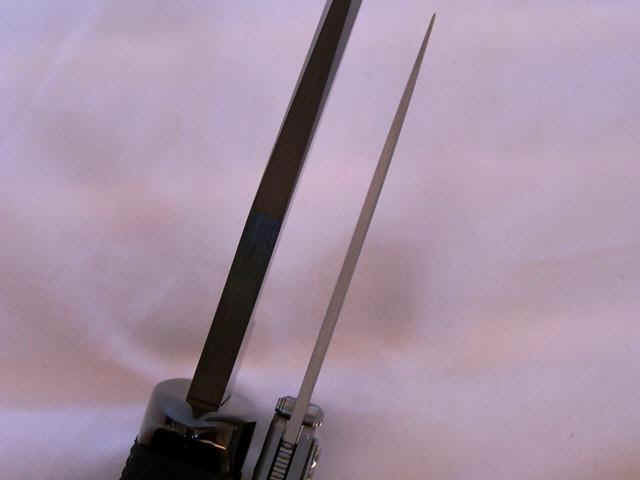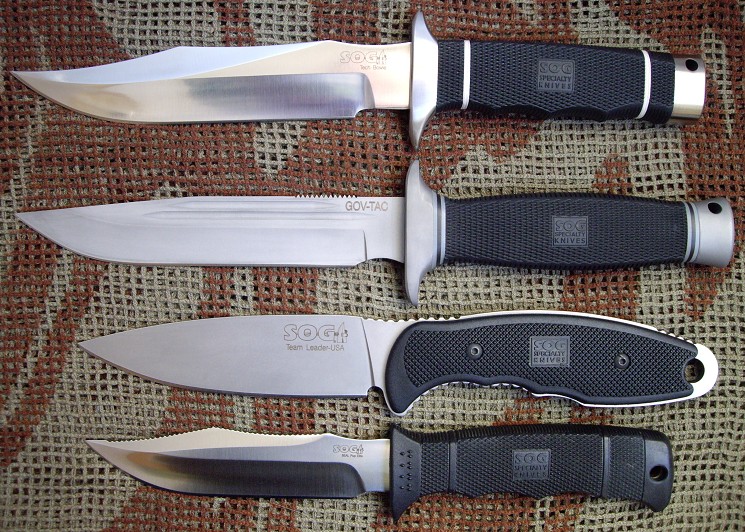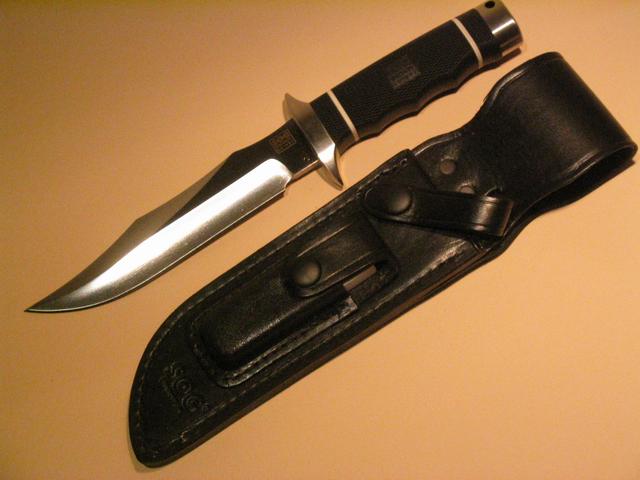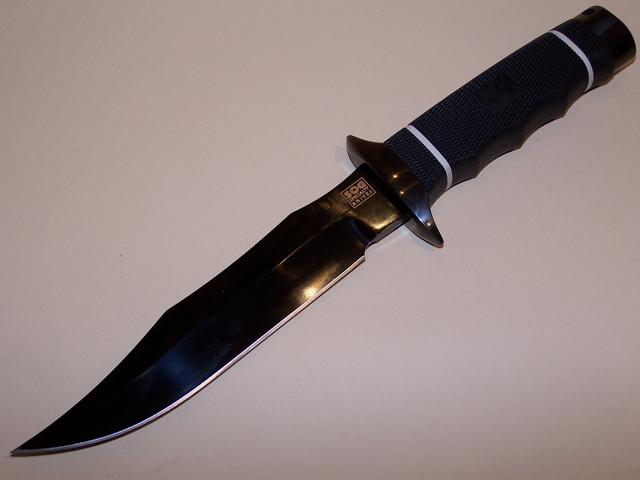 0.240" thick blade Size comparison w/ other SOGs Satin Tech Bowie Rich Black TiNi coating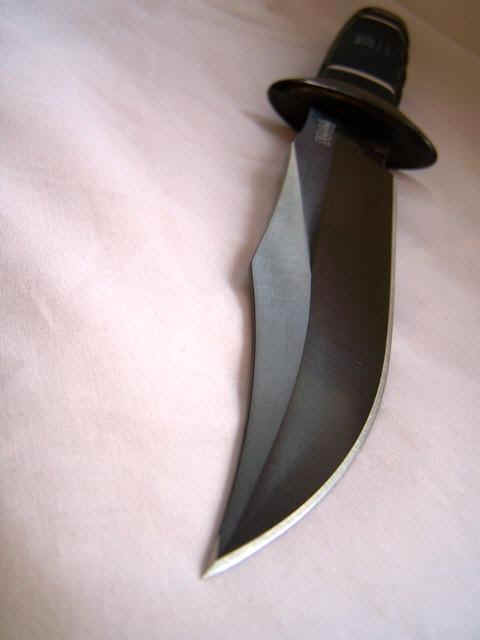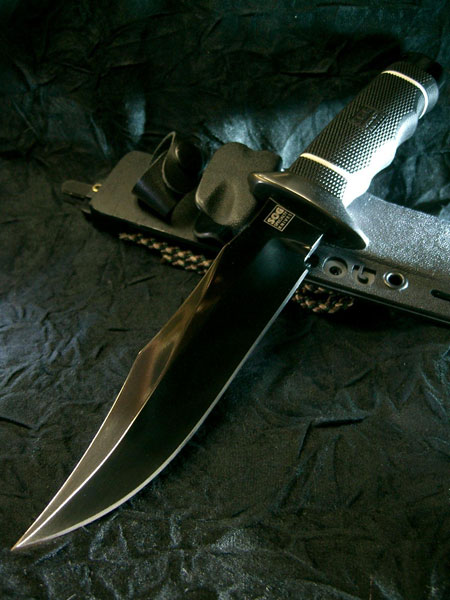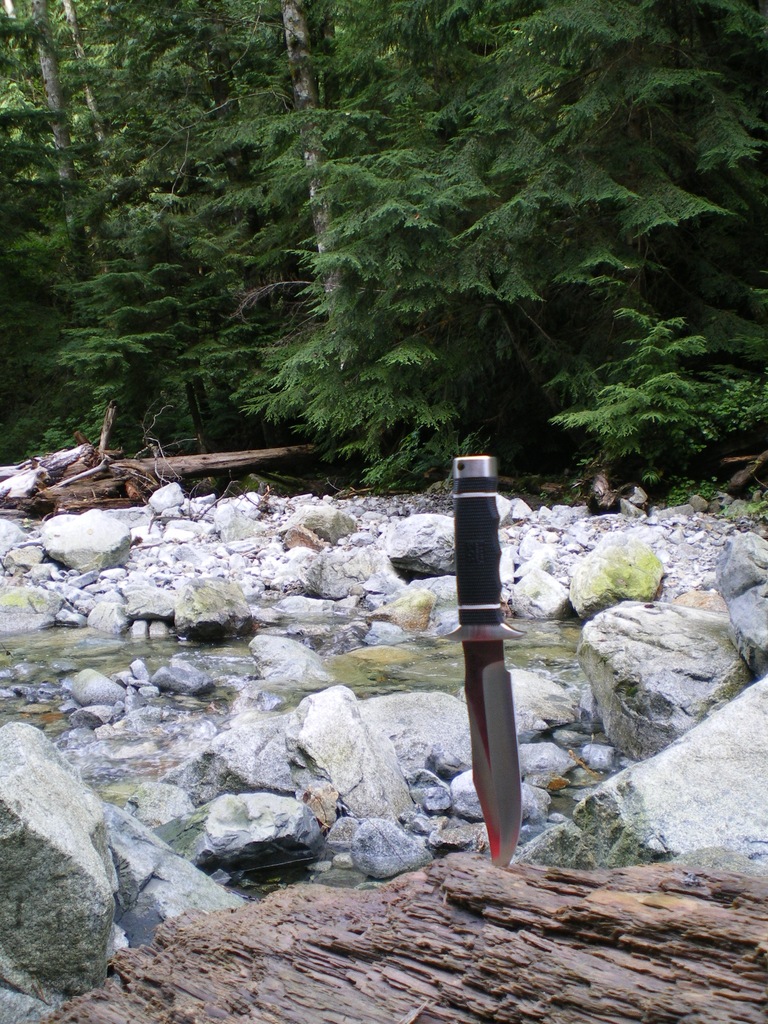 Nice grind lines Old "SOG Square logo" on knife Tech Bowie in the woods, literally



Page last updated: Sunday, May 10, 2009 23:41:18 PDT